"John was instrumental during a period of rapid expansion. He quickly identified core issues and initiated corrective action at senior management levels. I enjoyed working with John and valued his counsel."

Dr. Craig Barratt, CEO
Atheros Communications, Inc.
"I have enlisted John's services on two occasions for two different companies. His recommendations and insight were invaluable to the success of each enterprise, both operationally and strategically."

Rishabh Mehrotra, CEO
SHPS, Inc.
"John is very good at understanding how people operate and he gives straightforward feedback that people find accurate and helpful."

George Pavlov, GP
Tallwood Venture Capital


We work with C-level teams to build management, leadership, and communication skills in order to support the targeted corporate strategy. This multi-faceted participation includes: identifying and correcting management practices that interfere with long-term success; facilitating meetings leading/supporting corporate-wide initiatives; one-on-one coaching to improve communication and listening skills at the senior management level; participating in the hiring process for senior management personnel; performance reviews and planning sessions with CEOs. Each of these areas is an integral part of a successful management structure/team.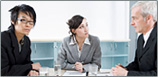 foreAction's focus
We focus on the behavior of executives. What is moving the company towards succeed and what is hindering progress. We have years of experience in observing and advising our clients at the senior executive level.


We have helped make decisions, implemented them, lived with them, and been accountable for them. We concentrate on execution. We know that developing the ability to execute a strategy is an on-going process critical to your company's survival and we'll be there to help your team achieve their goals.

We are about Action.

Getting things done
confronting issues which are holding the company back
initiating dialog about issues
opening up alternatives
to build working relationships
achieving the necessary results
creating long term relationships
making a positive difference.




We hold ourselves to the same rigor and self-evaluation we expect from our clients. We expect to be effective and to have our behavior under the same review as we hold the people we work with.

People want to work with us because we stick in there and constantly push for positive results. We understand what senior executives experience in fast moving companies. We have seen hundreds of executives face the challenges of their position and understand what makes for successful behavior. We know how to build open and honest relationships with executives leading to a productive exchange of information and advice.

Who benefits


Management with strong vision or industry-specific expertise, but needing assistance with execution
Executive teams or companies with internal conflict that prevents them from establishing focus and direction
Companies needing to rapidly scale-up to take advantage of a new technology or market
Firms that need to change or adapt their business model
Organizations ranging from start-up (seed round) to emerging (pre-IPO) to divisions of large corporations